International Dance Day
What belongs to us
Suzanne Beth Miller & Daniel Paquet
To be is a human right. In stark contrast to our world of conflict, ultra-nationalism, and increasingly deep ideological divisions, "What belongs to us", is both a question and an affirmation that emphasizes liberation and social responsibility. It uses dance, photography and sound to represent letters of the alphabet to commemorate the Universal Declaration of Human Rights (UDHR). Our project aims to represent all people and it starts with the individual. In knowing what belongs to us (the UDHR) – perhaps we can better understand who we are, and who we can be.

"What belongs to us" is an ongoing project by choreographer/dancer Suzanne Beth Miller in collaboration with Daniel Paquet photographer and web designer, and Allan Paivio, sound designer. The dance focuses on language as a common bond and borrows from Miller's recent choreography Needle and Thread, an ambient performance in collaboration with Mindy Yan Miller and Allan Paivio that commemorates victims of the Holocaust.

whatbelongstous.ca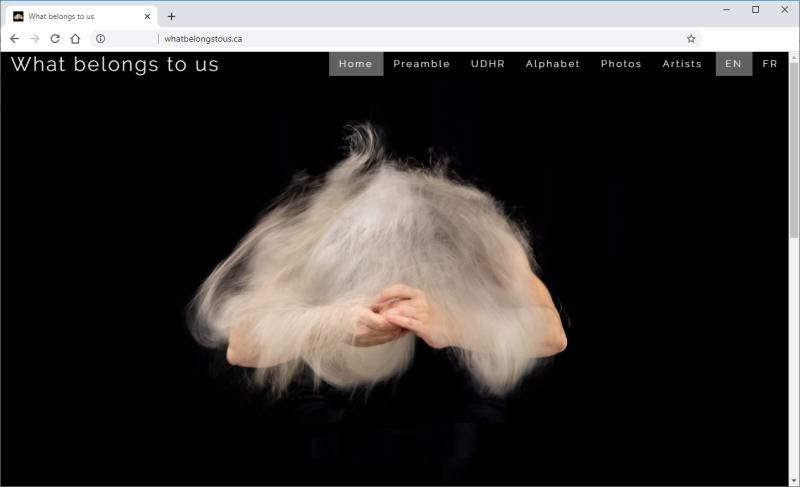 Dance Dialogues
Explore the intersections between dance and life
Join Robin Poitras and guest artists in a series of Dance Dialogues that explore the intersections between dance and life.

Artists and makers discuss their life, work and what matters in their practice today. With topics from human rights, to language, place and history the dance dialogues foster interdisciplinary approaches and conversation as a mode of knowledge production. The focus is on the spaces in between, and potentials of contemporary dance research, creation, performance, screen dance, and popular and community dance when brought into dialogue with other disciplines.

Dance Dialogues bring local and guest dance artists and makers, choreographers, directors and scholars, into lively conversational dialogues offering unique perspectives on the role of dance in society today and on dance as a means of enhancing human movement potential.


Guest: Naomi Jackson
Guests: Naomi Jackson, Suzanne Beth Miller, Daniel Paquet
Confederation and Truth and Reconcialiation
Amy Bowring & Troy Emery Twigg
A dynamic array of imagery and artifacts illuminates two narratives seldom heard in the Confederation story. While the Fathers of Confederation toiled at the table of nation making, two voices were not invited to the discussion: women and Indigenous peoples. This exhibit illuminated the stories of how women and dance were essential to networking during the 1864 conferences that led to Confederation, and how Indigenous dance was banned within two decades of Confederation in an attempt to suppress the culture and assimilate Indigenous peoples.




Banners designed by Michael Ripley, courtesy of Dance Collection Danse (www.dcd.ca)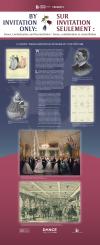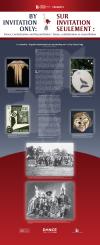 Faux Solo
Ralph Escamillan
Empty space, a human body, and 8 articles of clothing. FAUX SOLO explores the dialogue and collaboration made between the body, sound, clothing and space. Each article of clothing dictates the next move into the unknown space, becoming acquainted with the space with each accumulated piece. The sounds emphasize the impact of the colliding costumes and contrasts to the space surrounding it. It attempts to accent the feel of each moment, while supporting the shape of the entire piece as a whole. Simultaneously, the body is on view yet it is also the tool for manipulating the clothing and environment - the subjective/objective, personal/public is continually emphasized and revealed. Dancer / Choreographer/Producer : Ralph Escamillan Director: Nancy Lee DP: Sepehr Samimi Sound Designer: Stefan Seslija Gaffer: Donald Risky MUA: Jess Hawkins Hair: Thom Robins Costume Sponsored by: Lulu Lemon Lab Location Sponsored by: The Settlment Building PA: Nathan Ho PA: Linh Phan This film was made possible and commissioned by Festival of Recorded Movement (FORM 2016). Premiered in June of 2016 at the FORM festival. Learn more about me at: www.ralphescamillan.com


The Love That Never Left & In Relationship With
Tessa Rae Kuz
The Love That Never Left


In Relationship With
A Stone's Poem
Margie Gillis
During the creative development of A STONE'S POEM, choreographers Margie Gillis and Paola Styron explored their connection with the forces of Nature by working in wilderness sites which provided them with new information, on both the physical and spiritual levels: a stone quarry in Norway (Lundh's Labrador) with sculptor, Darrell Petit; the sea swept shores of Martha's Vineyard (The Yard, USA); pine forests on Cortes Island (Hollyhock Retreat Center, British Columbia), and at the Baie-Comeau Theatre and the Yukon Arts Center during artist residencies...

The piece was born from the raw energies of these exceptional places. On stage, Margie Gillis brings them to life with her passionate and graceful solo performance full of stark, powerful choreographic images, which reconnect us with that, which is essential.

Images... sounds... silences...
In spring, a fallen birch unfolds skywards like a tight bow strained by months of captivity under layers of ice.
The shock of lightning, reverberating through the atmosphere.
Fragility... trees crack, rocks split, ice breaks.
Lightness... a leaf pirouettes in mid air, the mist lifts.
Power... a torrent, a tempest, a fire.
Carefree joy. Mystery. Dignity.
Exacting nobility of Death and Rebirth.